Saito Update: October, 2020
Saito just had a great month. As you can see from the chart below, we're regularly doing about 30k transactions per day (our highest was yesterday at 32k) and are on track to break 50k within a few months. Our top-performing activity continues to be blockchain gaming.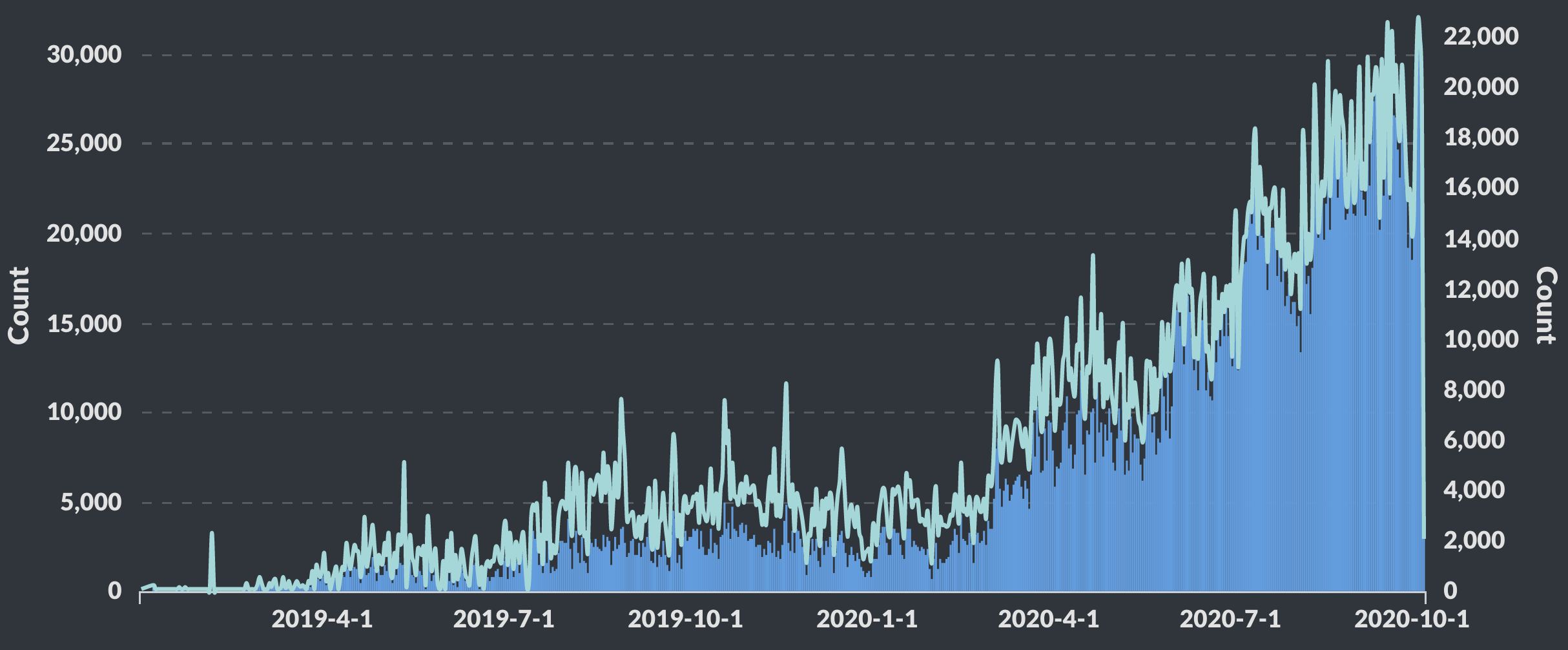 While we've made some progress on reachout, we could use help to get there by continuing to share word of everything. With that in mind we are happy to announce the launch of our referral system, which went live a bit earlier this month!
Launch of the Saito Referral System:
In addition to earning tokens by playing games, it is now possible to earn tokens by introducing friends and family to Saito. The link below contains instructions on how to get your personal referral link. Share it with friends and you'll earn tokens every time they do:

We *highly* recommend using your referral link when sharing word of Saito online. The referral mechanism will not take tokens away from your friends, but it will get you a bonus allocation every time they are sent tokens from the public faucet. And please also remember to backup your wallet since the process is fully automated.
Arcade Growth:
Our biggest technical update took place about two weeks ago when we pushed a major upgrade to the underlying network that fixes some issues with websocket connections causing problems in bad-network conditions. If you ever ran into issues where your websocket was regularly disconnecting and having trouble reconnecting you were probably dealing with this. Fixing the issue has absolutely improved general stability and gameplay.
We've also finally got Red Imperium "out of alpha" and very playable. Two new factions have been added (Yin and Sardaak) and the UI has been improved to the point that eight-point games take about 2 hours to play. More improvements are in the works — you can expect another game to come online in the next week or so.
Suggestions on Community Reachout:
As always, we're looking on suggestions for ways to improve Saito. We're working through ideas on how to improve the forum and some of the other social applications that are getting less use. If there's a feature you'd like to see added or a complaint you have please let us know.
Also, if you're connected with another crypto-project that needs transaction volume and has a community that wouldn't mind a bit more gameplay, put us in touch. We're happy to connect with other projects and help them get their tokens integrated with online gaming.